How to reach the city of Kalamata
1. International Kalamata Airport [Official page / Flight Connections]: Is located 9 km away (15min) from Kalamata Marina:
By local bus: From the airport terminal to Kalamata, Pylo, Koroni, Chora cities.
KTEL of Messinias | Phone no: +30 27210 - 22851
By taxi: Phone no: +30 27220 - 23100
By Radio Taxi: Phone no: +30 27210 – 21112

2. By private van transfer from another place in Greece: Alegria47 Team could arrange a transfer for you by taxi - minivan.

3. International Athens airport "Eleftherios Venizelos": is located 294km (2,5 hours) from Kalamata Marina. By Taxi: You can find easily taxis at Athens airport. Transfers: Alegria47 Team could arrange a private transfer for you by mini van/bus or by taxi (upon request)

4. By public transport – Bus (KTEL)
Provisions (Nearby Super Markets)
There are several supermarkets in Kalamata town. Your provisions can be also organized by the Alegria47 team (upon request). Your order will be on board upon your arrival.
1. Sklavenitis (mega) 3km (or 10min)
, [
Location
]
Monday—Friday: 08:00 am — 21:00 pm
Saturday: 08:00 am — 20:00 pm
Sunday: Closed
2. Lampou 1.6 km (or 8min)
, [
Location
]
Monday – Saturday: 07:00 am — 23:00 pm
3. Open flea market (fresh fruits, vegetables, fish, meat)
Pharmacy Shop
(350m or 5 min on foot) [
Location
]
Parking area
Around the marina has limited free parking area
Bank Transactions
In Kalamata town you can find several banks.
Opening hours: 08:00 – 13:30 Monday – Friday and they all provide ATMs. Nearest Bank:
National Bank of Greece
Nearest ATMs:
Eurobank
,
Piraeus Bank
Fuel
Upon delivery of the boat, the fuel track is coming to fill up.
Accommodation
In case you need hotel accommodation, we suggest a couple of hotels which are located near Kalamata Marina.
-
Electra Hotel & SPA
:
Location
-
Horizon Blu
-
Elite City Resort
Kalamata City
Museums
Archaeological Museum of Messenia, in the historical heart of Kalamata, where the old market used to stand, the Archaeological Museum of Messenia is home to an extensive collection of archaeological finds dating back from prehistoric times to the Byzantine era. It is divided into four geographical areas, which represent the four provinces of Messenia, including Kalamata, Messene, Pylia, and Trifylia. Exhibits include the splendid mosaic from Koroni, which depicts various scenes of the worship of the god Bacchus.
Greek Gallery of Modern Art, which displays paintings, sculptures and etchings, and the Benakeion Archaeology Museum housed in a neoclassical building in the old city.
Museum of Folklore and History housed in the Kiriakou Palace, with traditional objects and artefacts dating back to 1821 Greek War of Independence.
Isabeau Castle
The castle is situated on the site of the Acropolis of Farai, which offers an exceptionalpanoramic view of the city. Constructed in the 13th century, it underwent subsequent renovation by the Venetians and the Turks. Nowadays, it is an ideal open-air venue for theatre, music and dance shows.
Old Town
Just like many other cities in Greece, Kalamata boasts a stunning historic quarter, where you will love wandering along narrow alleys and among neoclassical mansions and cute forsaken corners. Located in the northern part of the city, just below the castle, Kalamata Old Town is home to several must-see churches, including the Byzantine church of the Holy Apostles and the cathedral of Ypapantis, a few museums, and a plethora of little shops selling local products and original souvenirs.
The Churches
Panagia Ipapanti Metropolitan Church (1873), dedicated to the patron saint of Kalamata celebrated on 2nd February, the 12th century Kalograion Monastery with a silk weaving workshop, and the Agioi Apostoloi Byzantine Church dating back to the 13th century.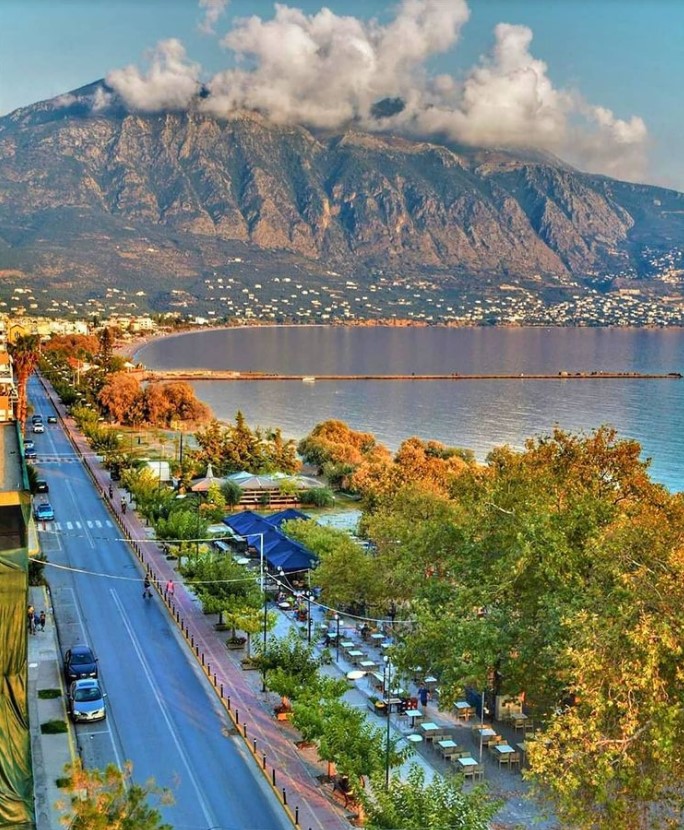 Kalamata Municipal Railway Park
The Kalamata Municipal Railway Park is the only open-air museum of its kind in Greece and popular among all Railway friends worldwide. It was founded in September 1986, but due to the devastating earthquake in the city at the time, it was only completed in 1990. The venue that was chosen for the open museum - exhibition area was the old station "Kalamata – Limin", which at the time of steam trains was a coal cellar and occupies a total area of 54,000 m2 in one of the most central locations.
Central Food Market
Kalamata central market is an attraction in itself if you are a foodie. No less than 450 producers and vendors meet every Wednesday and Saturday to sell a multitude of fruits and vegetables, including local specialties such as Kalamata olives, of course. Visitors will also find tasty products such as sfela cheese (a semi-hard cheese made from sheep or cow milk), pasteli, honey, lalagia, a type of fried dough crackers, and Poliani apples.
Shopping
The large central Vassileos Georgiou (King George) square offers many shops, meeting places and venues and is ideal for strolling and shopping. The pedestrian area of Aristomenous Street starts here, which is full of shops and inviting patisseries and coffee shops. To the west of the square the neighbourhood features a network of pedestrian walkways, small coffee shops, bars and taverns where you can try traditional dishes, the world-famous Kalamata olives and local olive oil produced in Messinia.
Activities and things to do in Kalamata
1. Paragliding flight tour / Paragliding Kalamata
The Messinian Gulf is considered one of the best places in Greece for a tandem paragliding flight as it offers one of the highest takeoff points in Greece. On Kalathi Mount, which is situated precisely in the east side of our city, is the takeoff spot, at an altitude of 940 metres high.
2. Scuba Diving / Kalamata Dive Center

3. Bike Tours & Rentals / Bike & Street.Shop
Kalamata is a Bicycle friendly town with very well organized bike road network.

4. Free Diving / Freediving Club Greece
Freediving Club Greece is the largest AIDA Instructor Development Center in the Mediterranean Basin with more than 13 years experience training Instructors who are now enjoying their dream of teaching freediving in every Ocean of the World. Stavros Kastrinakis is the creator of Freediving Club Greece - he holds the current AIDA World Record Holder in Variable Ballast.
Near-by destinations
- The archaeological site of Ancient Messene
- The mountain villages on the Western slope of Mt. Taygetos, on the road to the city from Sparta, which is one of the most beautiful roads in Greece.
- The seaside road in front of the city's extensive beach (4 km length with marvelous waters). On the seaside of Kalamata, people can swim in crystal clear waters and enjoy lace-like beaches, which have been granted the Blue Flag award of quality. Along the seaside, there are several tavernas, ouzo restaurants, cafeterias, bars, clubs, whereas beach aficionados can enjoy all kinds of water sports.